Internationally bestselling author Nadia Hashimi's first novel for young readers is an emotional, beautiful, and riveting coming-of-age journey to modern-day Afghanistan that explores life as a bacha posh—a preteen girl dressed as a boy.
Obayda's family is in need of some good fortune.
Her father lost one of his legs in a bomb explosion, forcing the family to move from their home city of Kabul to a small village, where life is very different and Obayda's father almost never leaves his room.
One day, Obayda's aunt has an idea to bring the family luck—dress Obayda, the youngest of her sisters, as a boy, a bacha posh.
Now Obayda is Obayd.
Life in this in-between place is confusing, but once Obayda meets another bacha posh, everything changes. The two of them can explore the village on their own, climbing trees, playing sports, and more.
But their transformation won't last forever—unless the two best friends can figure out a way to make it stick and make their newfound freedoms endure.
Reviews
"Consideration of gender roles, identity, and discrimination unfold organically, and although Hashimi clearly decries the curtailment of girls' rights in Afghanistan, she wisely makes no suggestion of what the future may hold for Obayda herself." -Bulletin of the Center for Children's Books (University of Illinois)
*Junior Library Guild Selection*
*Recommended Book* by the Charlotte Huck Award Committee
"Inspired Recommendations for Kids from Indie Booksellers" -Autumn 2016 Kids' Indie Next List
"Impactful and meaningful…Obayda will provide readers with insightful information about Islamic culture, and particularly the Afghani culture, as it relates to girls. The hardships that an Afghani family may endure and the beliefs they may hold (stories and myths the people hold on to for hope) cling to the personality of Obayda and her family." -Voice of Youth Advocates
"Sensitive, illuminating, hopeful…A must for middle school libraries and public libraries"
-Goodreads reviews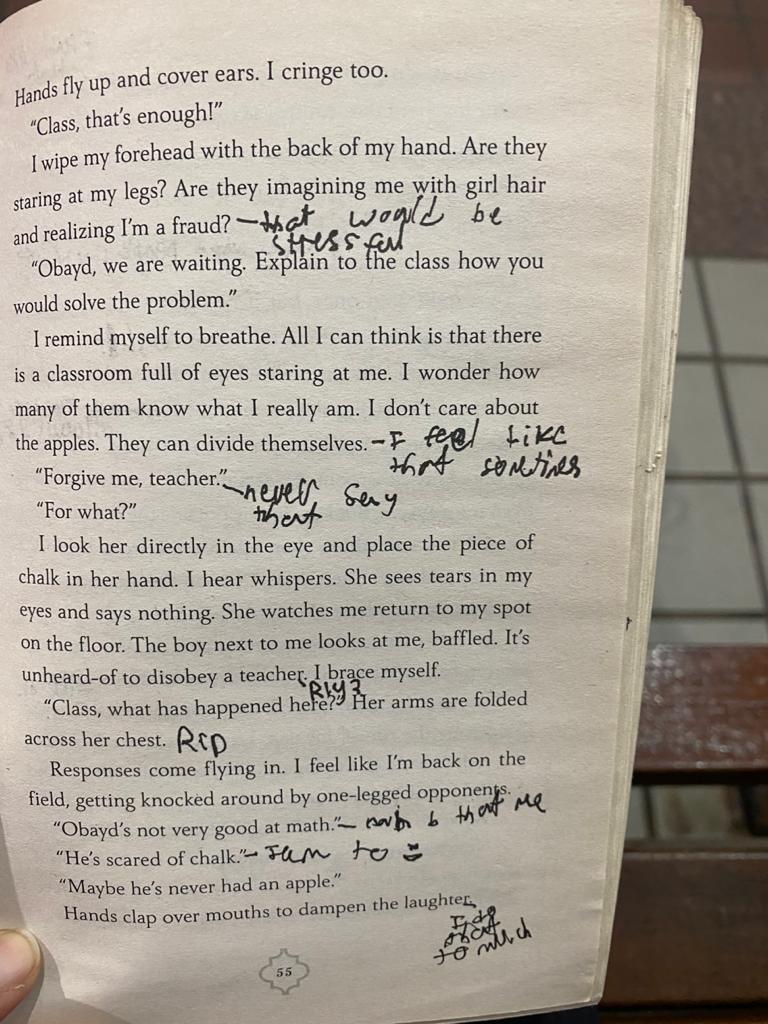 Spotted in the wild: A dogeared copy of One Half From the East with insightful notes in the margins. I love hearing what young readers think. Educators, send me a note through the contact page if you're interested in making a classroom connection! —Nadia